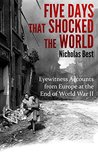 Five Days that Shocked the World: Eyewitness Accounts from Europe at the end of World War II by Nicholas Best
My rating: 5 of 5 stars
Five Days That Shocked The World covers the events that took place during the last five days of WWII. Nicholas Best's writing is exceptional, he chronologically describes each day with eyewitnesses statements in each chapter. Many well-known people and their recollections of those specific days are included in the book. In my opinion, this book is very distressing, as so was WWII.
The story begins with Mussolini's capture and execution. The author does not sugarcoat anything in the book. Eyewitness's statements bring us back to those tragic days when the whole world was waiting for Germany to surrender and for Hitler to be captured.
I've read many books about WWII, nonetheless, when I opened this book I was not prepared for the horror and barbarity that took place during WWII. The book is dark and distressing, I was shocked by how much cruelty and inhumanity people had in themselves during those devastating days.
I think it takes a strong character to write a book like this. Yes, the stories inside the book are heartbreaking and wicked, but it has to be told. The world needs to know and remembers those dreadful events. This is my first book by Nicholas Best, and I am very impressed by his work. I already added few of his previous books to my TBR list.